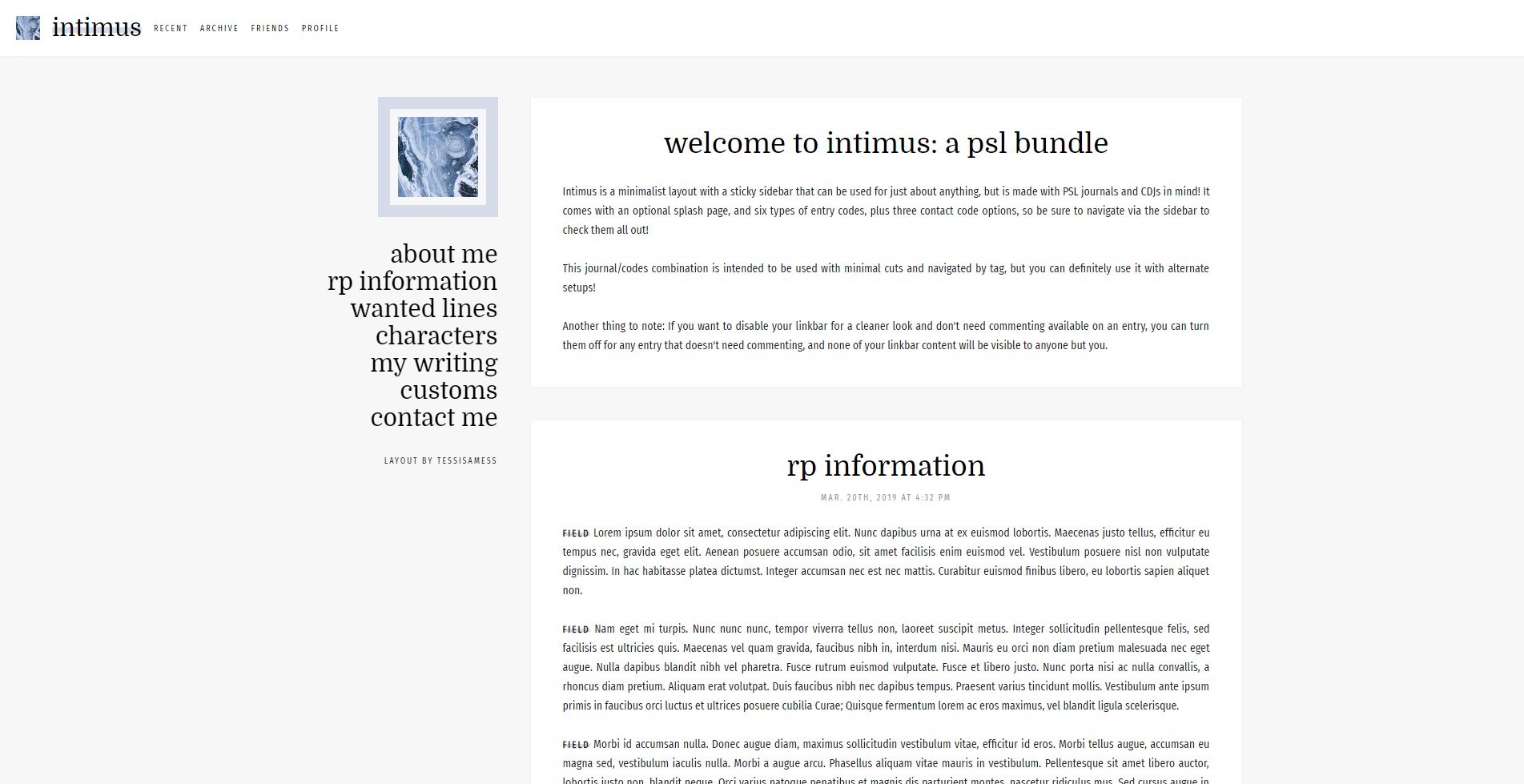 image preview |
tess069
Information
Hey guys! Intimus is a minimalist layout with a sticky sidebar that can be used for just about anything, but is made with PSL journals and CDJs in mind! It comes with an optional splash page, and six types of entry codes, plus three contact code options, so be sure to navigate via the sidebar to check them all out!
This journal/codes combination is intended to be used with minimal cuts and navigated by tag, but you can definitely use it with alternate setups!
Another thing to note: If you want to disable your linkbar for a cleaner look and don't need commenting available on an entry, you can turn them off for any entry that doesn't need commenting, and none of your linkbar content will be visible to anyone but you. Enjoy! ♥
Please note that, if using this layout for a community, there is a small section at the very end of the CSS that I recommend deleting so that userpics etc. all function as needed for a community. It's labeled in the CSS for your convenience!
Layout Coding
Installation Guide
♡ Go to
Basics
and choose S2 for your style system, fill in your title, then save.
♡ Fill in your
Links List
for tag/page navigation if desired, then save.
♡ Go to
Look and Feel
, choose Complete Style, then save.
♡ Go to
Custom Options
and choose the following options:
♡ Layout Type:

Two Column (Sidebar on Left)
Two Column (Sidebar on Right)

♡ Disable customized comment pages for your journal: Yes
♡ Navigation link names: Recent/Archive/Friends/Profile
♡ Fill in sticky note if desired.
♡ Person to credit if you have an individually created layout: Layout by Tessisamess
♡ URL to link the credit to: http://tessisamess.insanejournal.com/
♡ Custom stylesheet: Input the CSS provided and save!

Editing Guide
These replacements are for
the entry codes only
as the layout itself has a
:root
directory.
FONTS
Fira Sans Extra Condensed,helvetica,arial,sans-serif - Overall font in some entry codes
Domine,palatino linotype,georgia,serif - Heading text in some entry codes

COLORS
Terms of Use
♡ Do not remove credit.
♡ Do not redistribute my codes in part or in whole (posting a copy for players to use in your game is fine with a link to original post.)
♡ If you break something during editing, please feel free to drop me a comment and I'll help as best I can!
♡ I love seeing edits! This isn't a rule, but if you have a cool edit of one of my codes I'd love to see it!