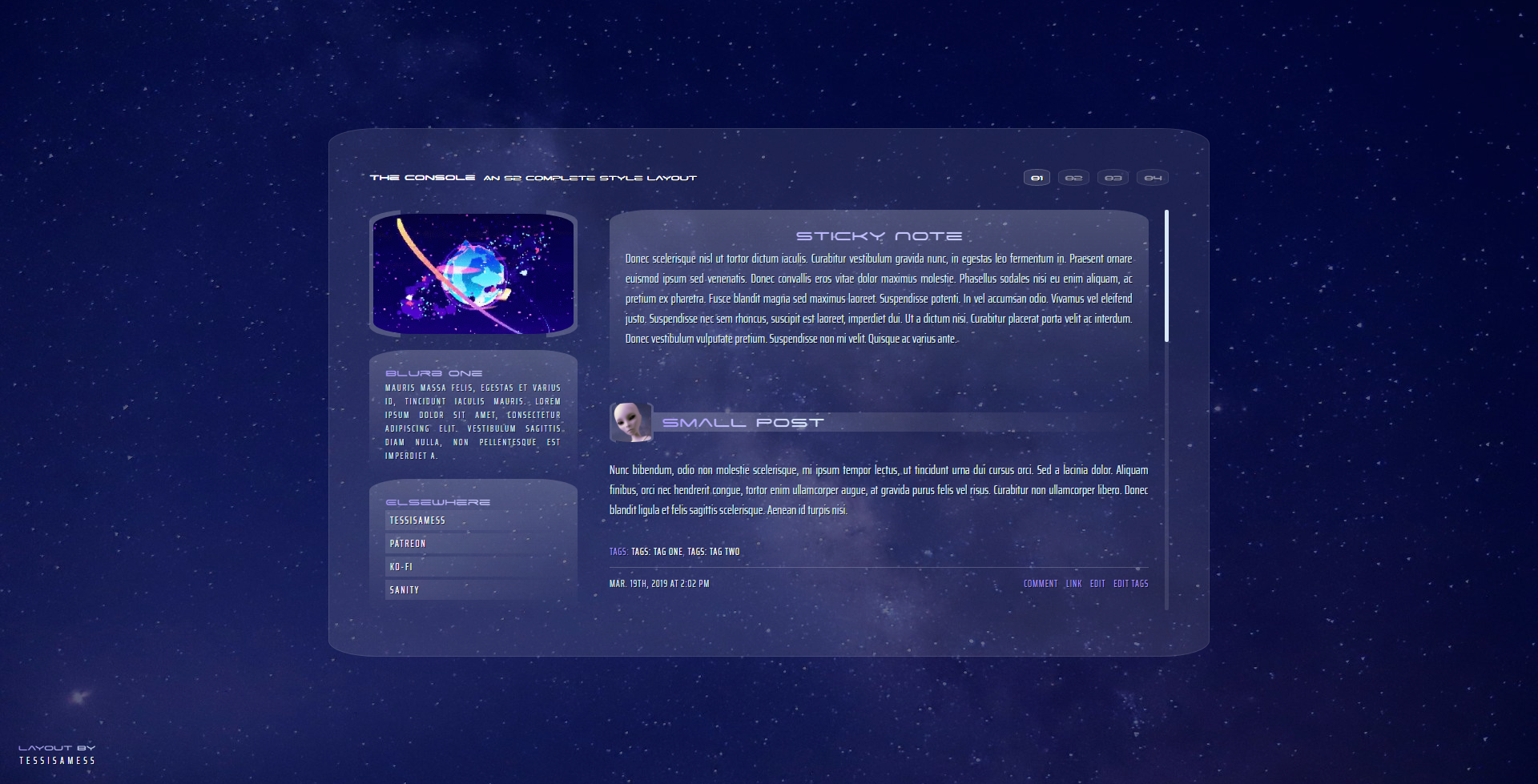 image preview |
tess068
Information
This layout brought to you by gradients lmfao. It's been a super long week with trips in and out of town, so I'm gonna keep this short and sweet. The Console is a self-contained layout made to match the bio code Io I put up last week. Have fun customizing the colors to make cool gradient combos! (You can also replace any RGBA value with a HEX value for solid colors.) Can't wait to see edits of this, and maybe even some edits to make this layout non-scifi!
A quick way to remove the scifi feel
from this layout would be to scale back on the use of gradients and transparency and then to do a search on
border-radius
and remove all instances found. Enjoy! ♥
Layout Coding
Installation Guide
♡ Go to
Basics
and choose S2 for your style system, fill in your title, then save.
♡ Fill in your
Links List
if desired, then save.
♡ Go to
Look and Feel
, choose Complete Style, then save.
♡ Go to
Custom Options
and choose the following options:
♡ Layout Type: Two Column (Sidebar on Left)
♡ Disable customized comment pages for your journal: Yes
♡ Link text to leave a comment: Comment
♡ Navigation link names: 01/02/03/04
♡ Text to put in the header when the entry has no subject: Remove brackets from 'No Subject', change to a new title, or add   for a blank gradient bar. Do NOT just blank the field or you'll have spacing issues.
♡ Fill in sticky note if desired.
♡ Fill in custom sidebar module if desired.
♡ Person to credit if you have an individually created layout: Tessisamess
♡ URL to link the credit to: http://tessisamess.insanejournal.com/
♡ Custom stylesheet: Input the CSS provided and save!

Terms of Use
♡ Do not remove credit.
♡ Do not redistribute my codes in part or in whole (posting a copy for players to use in your game is fine with a link to original post.)
♡ If you break something during editing, please feel free to drop me a comment and I'll help as best I can!
♡ I love seeing edits! This isn't a rule, but if you have a cool edit of one of my codes I'd love to see it!