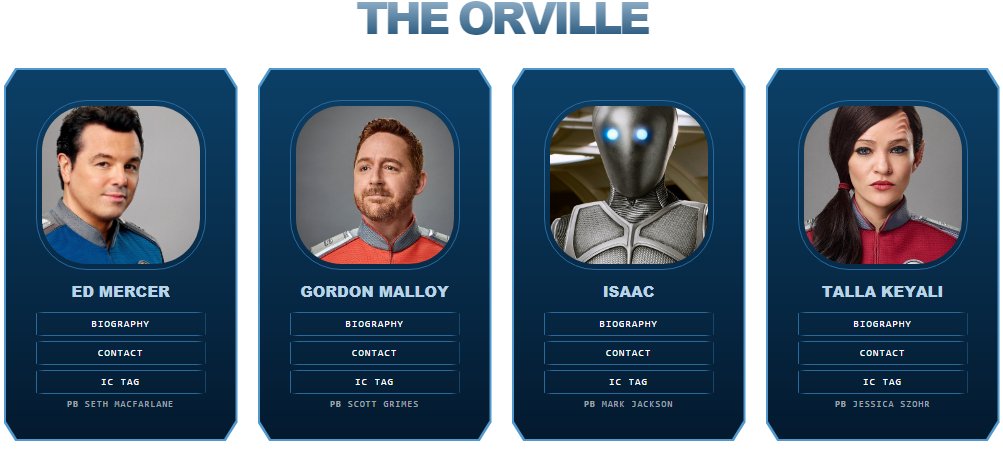 Information
Hey guys! It's sci-fi month, which means all free and Patreon-exclusive codes are going to be looking towards the future, with lots of gradients, non-standard shapes, overlays, and slick designs for a high-tech look! Kicking off the month, based on poll results indicating high demand, we've got a cast list!
These cast cards default to support any size image, whether you want icons, gifs, or your own custom shape, so don't worry—your image preference will fit with no editing needed! My only recommendation is that you use the same dimensions for all entries to avoid mismatched card lengths, but that's up to you! Enjoy! ♥
The Coding
Installation Guide
Paste into an entry and fill in the following!
Section Title
- First section title or overall cast header; dealer's choice! (Or delete if unneeded!)
IMG_URL
- Character image
CHARACTER_NAME
- Character name
BIO_URL
- Bio/app link
CONTACT_URL
- Dropbox link
IC_URL
- IC tag link
PB_NAME
- PB name
Editing Guide
Paste the coding into Notepad or similar and bring up Replace All (usually Ctrl+H) to replace values quickly and easily!
DIMENSIONS
max-width:1100px; - Overall container width
width:230px; - Each card width
max-width:100%; - Each card image

FONTS
monospace - Overall font
arial black - Section and name header font

COLORS
Terms of Use
♡ Do not remove credit.
♡ Do not redistribute my codes in part or in whole (posting a copy for players to use in your game is fine with a link to original post.)
♡ If you break something during editing, please feel free to drop me a comment and I'll help as best I can!
♡ I love seeing edits! This isn't a rule, but if you have a cool edit of one of my codes I'd love to see it!