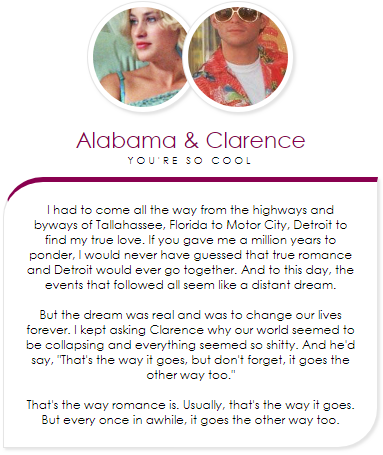 Alabama & Clarence
You're So cool
I had to come all the way from the highways and byways of Tallahassee, Florida to Motor City, Detroit to find my true love. If you gave me a million years to ponder, I would never have guessed that true romance and Detroit would ever go together. And to this day, the events that followed all seem like a distant dream.

But the dream was real and was to change our lives forever. I kept asking Clarence why our world seemed to be collapsing and everything seemed so shitty. And he'd say, "That's the way it goes, but don't forget, it goes the other way too."

That's the way romance is. Usually, that's the way it goes. But every once in awhile, it goes the other way too.
Information
Hey guys! Just tossing up a quick 'mini' version for my
previous post
! This ship info code comes in a single and a version to store all of your ships in one entry, and is more of a 'quick info' type of deal in the same style as the larger code. Enjoy! ♥
Coding: Single
Coding: Multiple
Installation Guide
Paste into an entry and fill in the following!
ICON1
and
ICON2
- Icons
NAME1
and
NAME2
- Title Names
SUBTITLE
- Subtitle line
BLURB
- Information
Editing Guide
Paste the coding into Notepad or similar and bring up Replace All (usually Ctrl+H) to replace values quickly and easily!
FONTS
century gothic,helvetica,arial,sans-serif - Overall font

COLORS
Terms of Use
♡ Do not remove credit.
♡ Do not redistribute my codes in part or in whole (posting a copy for players to use in your game is fine with a link to original post.)
♡ If you break something during editing, please feel free to drop me a comment and I'll help as best I can!
♡ I love seeing edits! This isn't a rule, but if you have a cool edit of one of my codes I'd love to see it!