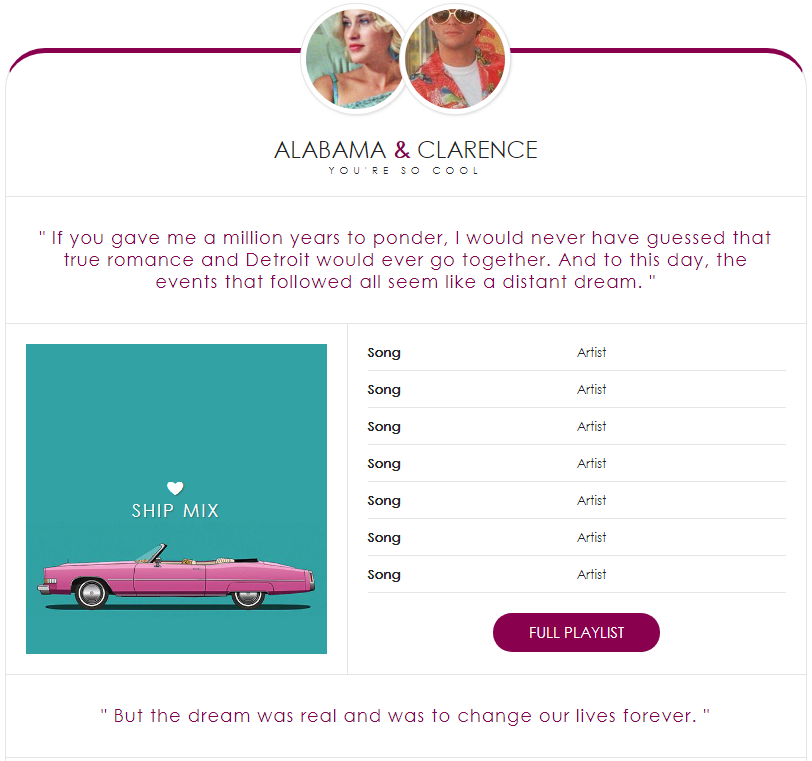 ALABAMA
&
CLARENCE
YOU'RE SO COOL
If you gave me a million years to ponder, I would never have guessed that true romance and Detroit would ever go together. And to this day, the events that followed all seem like a distant dream.
But the dream was real and was to change our lives forever.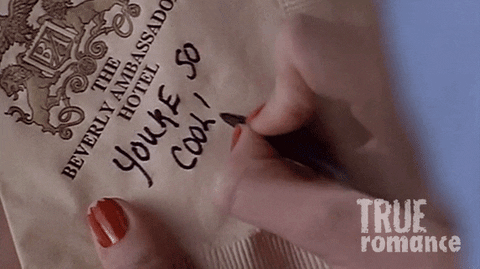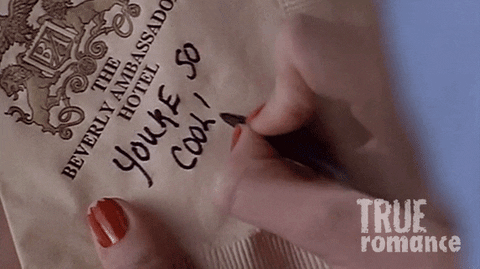 Information
Hey guys! I don't think I've ever seen anything like this put up before, though I could just be looking in the wrong places haha. This info hub is all about your ships, pairings, OTPs—whatever you like to call them! All modules after the header are easily rearranged, duplicated, or deleted for ease of customization. Let me know if you like the idea of this and I'll make more in the future with different types of setups and information included! Enjoy! ♥
The Coding
Installation Guide
Paste into an entry and fill in the following!
ICON1
and
ICON2
- Header icons
NAME1
and
NAME2
- Header names
SUBTITLE
- Header subtitle
QUOTE1
and
QUOTE2
- Each quote line section
MIX_BG
and
MIX_TITLE
- Playlist cover
SONG_URL
,
Song
, and
Artist
- Track info; copy/paste as needed
PLAYLIST_URL
- Playlist link
GALLERY_IMG
- Aesthetics gallery images; copy/paste as needed
Editing Guide
Paste the coding into Notepad or similar and bring up Replace All (usually Ctrl+H) to replace values quickly and easily!
FONTS
century gothic,helvetica,arial,sans-serif - Overall font

COLORS
Terms of Use
♡ Do not remove credit.
♡ Do not redistribute my codes in part or in whole (posting a copy for players to use in your game is fine with a link to original post.)
♡ If you break something during editing, please feel free to drop me a comment and I'll help as best I can!
♡ I love seeing edits! This isn't a rule, but if you have a cool edit of one of my codes I'd love to see it!