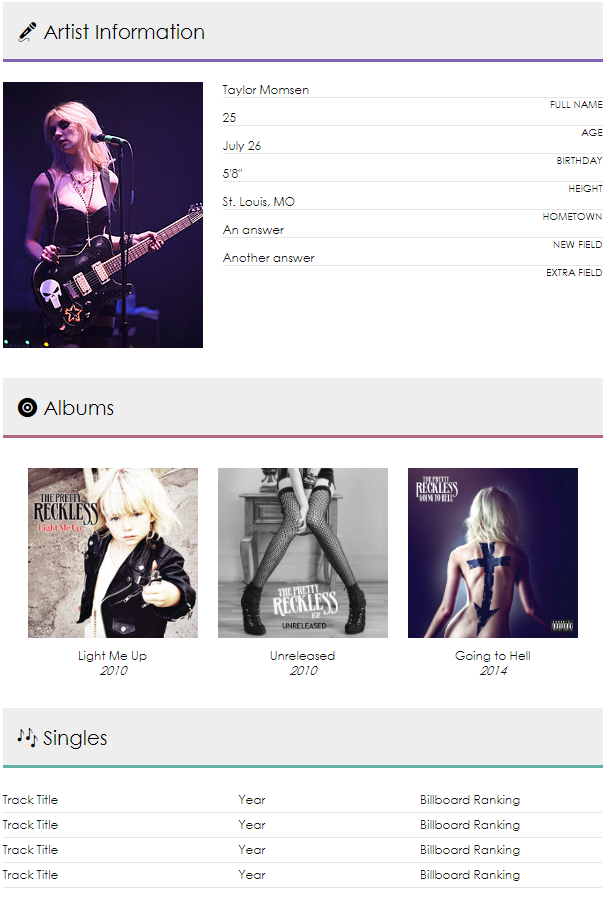 🎤 Artist Information
Taylor Momsen
FULL NAME
25
AGE
July 26
BIRTHDAY
5'8"
HEIGHT
St. Louis, MO
HOMETOWN
An answer
NEW FIELD
Another answer
EXTRA FIELD
💿 Albums
Light Me Up
2010
Unreleased
2010
Going to Hell
2014
🎶 Singles
Track Title
Year
Billboard Ranking
Track Title
Year
Billboard Ranking
Track Title
Year
Billboard Ranking
Track Title
Year
Billboard Ranking
© tessisamess
Information
Hey guys! Another thing I've never made before! I had an HTML page to post, but it doesn't work on IJ so I was
very
hesitant to post something that had no direct way to use it on the site. I'll still definitely post it, but I realized I'd rather it be an extra unscheduled thing sometime in Jan or Feb due to that.
BUT W/E because today we've got celeb info codes for your famous OCs and the like! There's an actor and a musician template, but I'm sure these could easily be changed for use other ways! I wasn't sure how needed a code like this would be so I went pretty light on coding for this time around, but if this is something you'd like to see more of let me know and I'll definitely make a couple more! ♥
Coding: Actor
Coding: Musician
Editing Guide
Paste the coding into Notepad or similar and bring up Replace All (usually Ctrl+H) to replace values quickly and easily!
FONTS
century gothic,helvetica,arial,sans-serif - Overall font

COLORS
Terms of Use
♡ Do not remove credit.
♡ Do not redistribute my codes in part or in whole (posting a copy for players to use in your game is fine with a link to original post.)
♡ If you break something during editing, please feel free to drop me a comment and I'll help as best I can!
♡ I love seeing edits! This isn't a rule, but if you have a cool edit of one of my codes I'd love to see it!