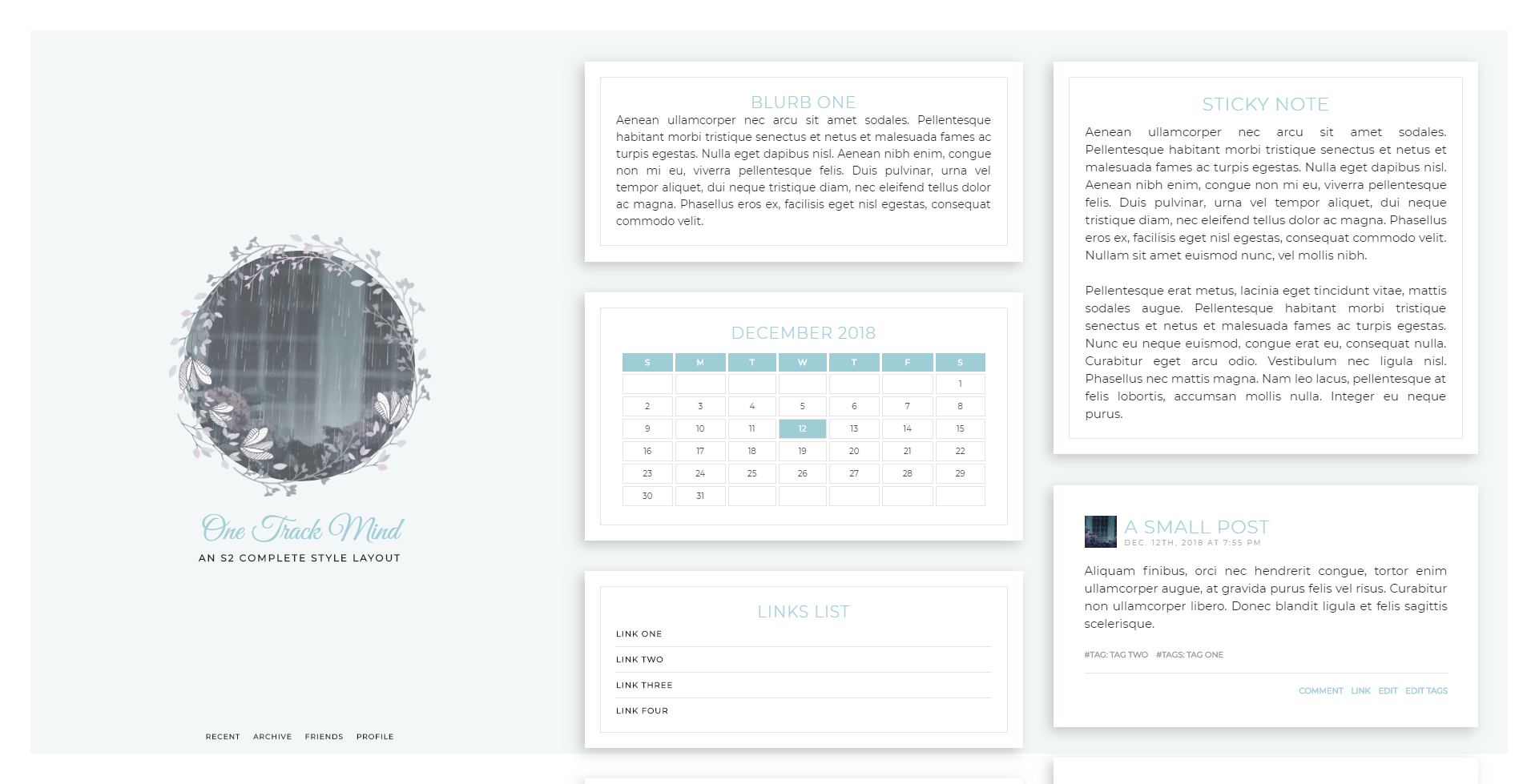 image preview |
tess062
Information
Hey guys! Today we've got a fun column-esque layout! It's not actually columns, but the sidebar and entries are the same width as each other, so it definitely has the same vibe! This layout supports three different page setups, and has a picture border feature, so really any circle-based frame png will work really nicely in this coding. Enjoy! ♥
*Currently trying to fix an iOS bug for this layout!
Layout Coding
Installation Guide
♡ Go to
Basics
and choose S2 for your style system, fill in your title and subtitle, then save.
♡ Fill in your
Links List
if desired, then save.
♡ Go to
Look and Feel
, choose Complete Style, then save.
♡ Go to
Custom Options
and choose the following options:
♡ Layout Type:

One Column
Two Column (Sidebar on Left)
Two Column (Sidebar on Right)


♡ Disable customized comment pages for your journal: Yes

♡ Link text to leave a comment: Comment
♡ Navigation link names: Recent/Archive/Friends/Profile

♡ Fill in sticky note if desired.
♡ Fill in first and second custom sidebar modules if desired.

♡ If some modules are unneeded and showing up, use the dropdowns to set them to (none) where they appear.

♡ Person to credit if you have an individually created layout: Layout by Tessisamess
♡ URL to link the credit to: http://tessisamess.insanejournal.com/

♡ Custom stylesheet: Input the CSS provided and save!

Extra Wreaths
Need wreath ideas for your edits? You can find free transparent wreaths
here
on Pixabay, to get you started, but there are tons of places online to get nice transparent frames and wreaths! Here are a few bonus options from my collection of resources from various paid and free markets:
*
These are obviously much larger; just rightclick and copy or rightclick and save as to grab 'em! Hotlinking is fine. The third image in IS transparent; I just had to add a background color so you guys could see it easier.
Terms of Use
♡ Do not remove credit.
♡ Do not redistribute my codes in part or in whole (posting a copy for players to use in your game is fine with a link to original post.)
♡ If you break something during editing, please feel free to drop me a comment and I'll help as best I can!
♡ I love seeing edits! This isn't a rule, but if you have a cool edit of one of my codes I'd love to see it!