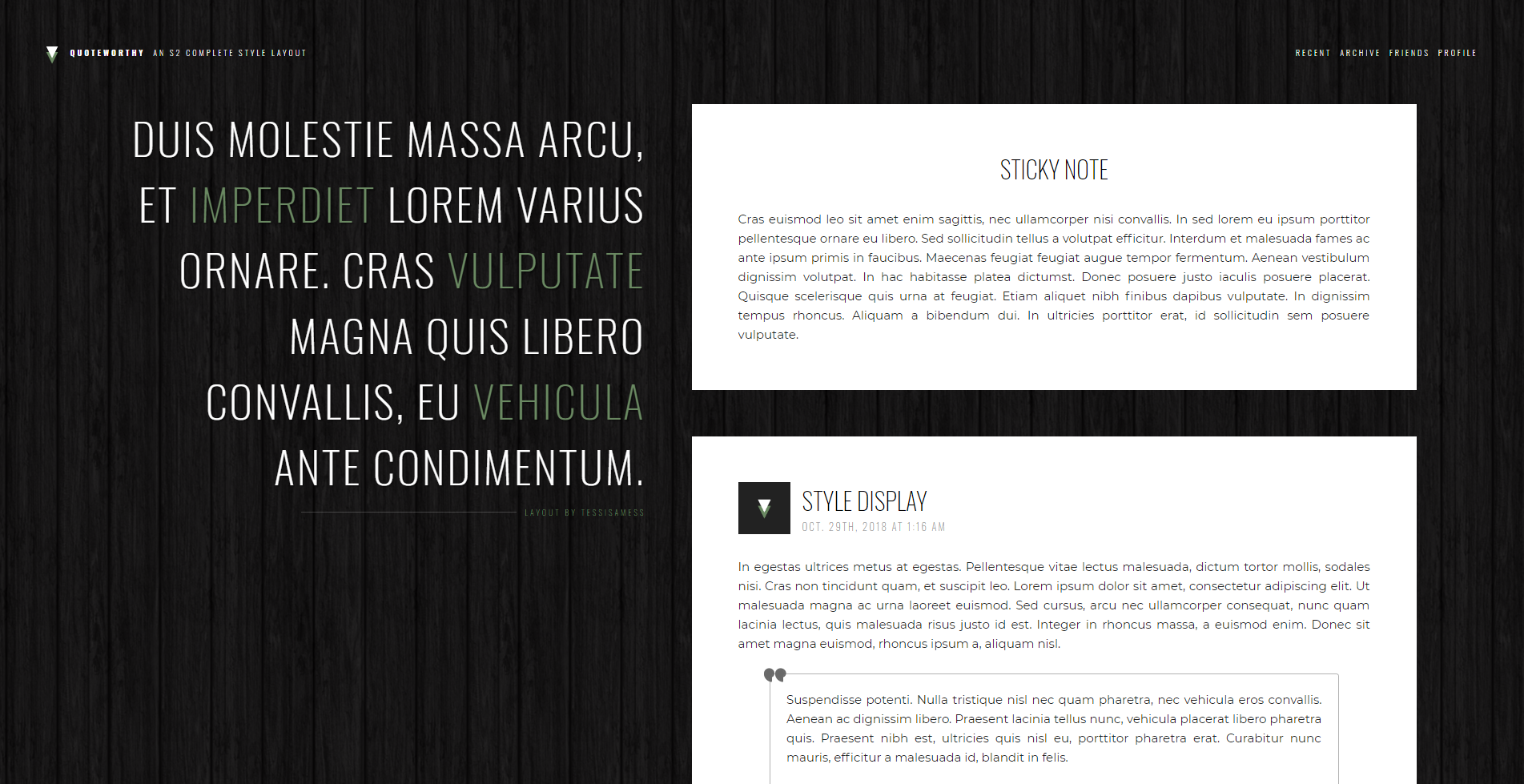 image preview |
tess060
Information
Hey guys! I meant to get a tutorial on how to use flexbox up today, but I'm still writing it up and I'm VERY TIRED & HAVE STUFF I GOTTA DO LOL so we'll get that up tomorrow instead!
Instead, today we've got a layout focused on big, bold text and geometric accents. The sidebar could very easily be used for a list of links rather than a quote with linked words, so be sure to play around in the custom text box and see what appeals to you the most! Enjoy! ♥
Layout Coding
Installation Guide
♡ Go to
Basics
and choose S2 for your style system, fill in your title and subtitle, then save.
♡ Go to
Look and Feel
, choose Complete Style, then save.
♡ Go to
Custom Options
and choose the following options:
♡ Layout Type: Two Column (Sidebar on Left)
♡ Disable customized comment pages for your journal: Yes
♡ Link text to leave a comment: Comment
♡ Navigation link names: Recent/Archive/Friends/Profile
♡ Fill in sticky note if desired.
♡ Fill in custom sidebar module if desired. This is your quote navigation. The demo uses plain text with standard links for some words.
♡ Person to credit if you have an individually created layout: Layout by Tessisamess
♡ URL to link the credit to: http://tessisamess.insanejournal.com/
♡ Custom stylesheet: Input the CSS provided and save!

Terms of Use
♡ Do not remove credit.
♡ Do not redistribute my codes in part or in whole (posting a copy for players to use in your game is fine with a link to original post.)
♡ If you break something during editing, please feel free to drop me a comment and I'll help as best I can!
♡ I love seeing edits! This isn't a rule, but if you have a cool edit of one of my codes I'd love to see it!