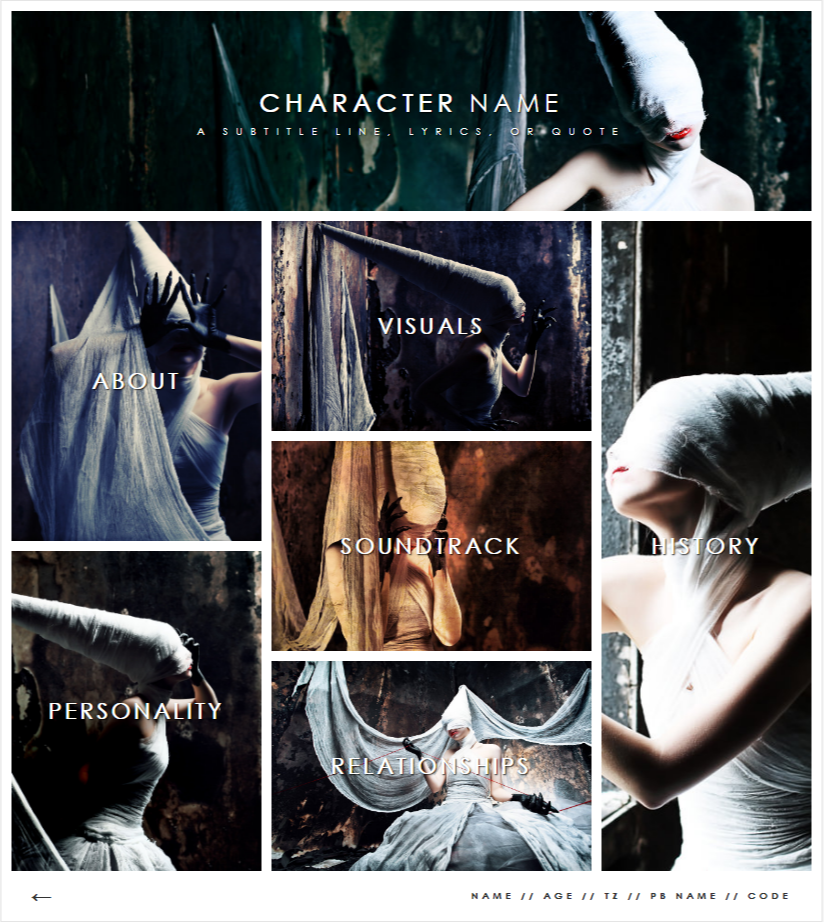 Information
Hey guys! I'M COLD & GETTING SICK LET'S KEEP THIS SHORT. 😭 I've been dying to make a fun moodboard-feeling bio for ages, and now I finally have one up! Make sure to read through for extra instructions, and enjoy! ♥
The Coding
Installation Guide
Paste into an entry and fill in the following!
NAV BACKGROUND IMAGES
HEADERBG - Header image; visible on every page
ABOUTBG - About
PERSONALITYBG - Personality
VISUALSBG - Visuals
SOUNDTRACKBG - Soundtrack
RELATIONSHIPSBG - Relationships
HISTORYBG - History

ABOUT
ABOUTPIC1 through ABOUTPIC3 - About sidebar images

PERSONALITY
PERSONALITYPIC - Personality sidebar image
THE ROLE and ABCD-E - Personality sidebar title and subtitle

VISUALS
Copy/paste each img to duplicate.

SOUNDTRACK
Copy/paste each block to duplicate. These blocks contain link URLs!

RELATIONSHIPS
Copy/paste each block to duplicate. These blocks contain icon URLs!

HISTORY
Has instructions in-page.
Editing Guide
Paste the coding into Notepad or similar and bring up Replace All (usually Ctrl+H) to replace values quickly and easily!
HIDDEN ABILITIES & SKILLS SECTION
This code comes with an abilities & skills section that you can swap any of the existing pages for! If, for example, you don't need the soundtrack page you could delete it and change the abilities page anchor from a name="7" to a name="4" to switch them!

FONTS
century gothic,arial,sans-serif - Overall font

COLORS
Terms of Use
♡ Do not remove credit.
♡ Do not redistribute my codes in part or in whole (posting a copy for players to use in your game is fine with a link to original post.)
♡ If you break something during editing, please feel free to drop me a comment and I'll help as best I can!
♡ I love seeing edits! This isn't a rule, but if you have a cool edit of one of my codes I'd love to see it!