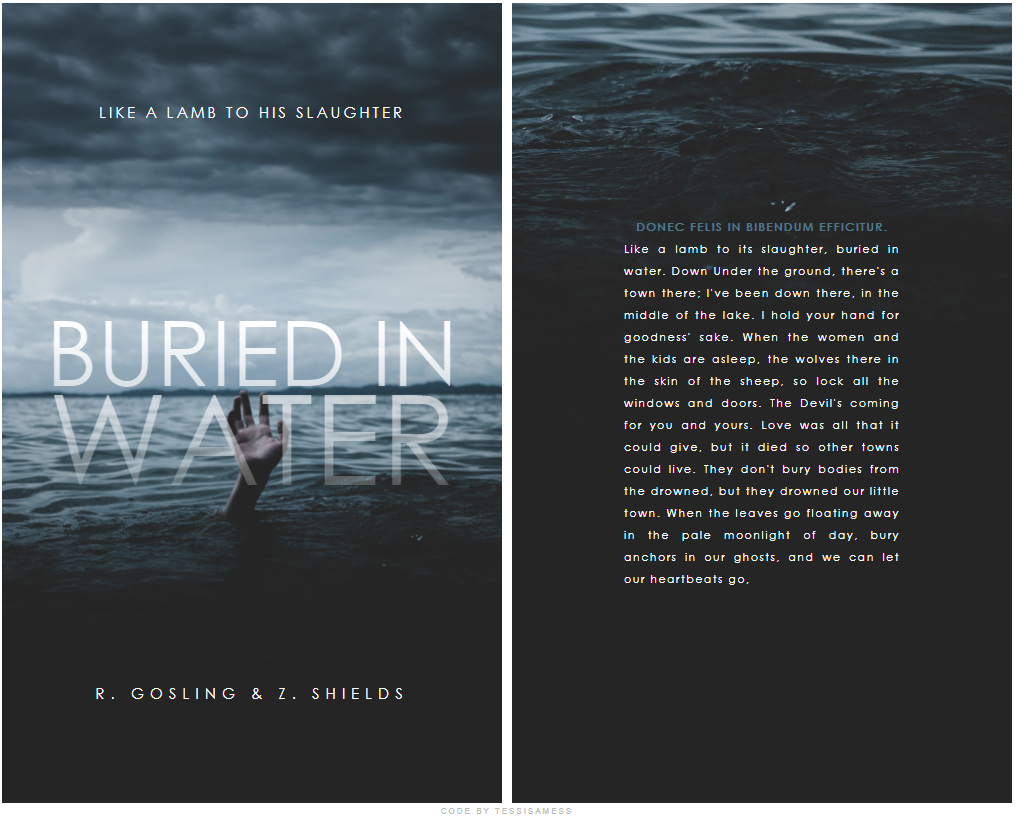 Like a lamb to his slaughter
R. Gosling & Z. Shields
Donec felis in bibendum efficitur.

Like a lamb to its slaughter, buried in water. Down Under the ground, there's a town there; I've been down there, in the middle of the lake. I hold your hand for goodness' sake. When the women and the kids are asleep, the wolves there in the skin of the sheep, so lock all the windows and doors. The Devil's coming for you and yours. Love was all that it could give, but it died so other towns could live. They don't bury bodies from the drowned, but they drowned our little town. When the leaves go floating away in the pale moonlight of day, bury anchors in our ghosts, and we can let our heartbeats go...
CODE BY TESSISAMESS
Information
Hey guys! OOOH, OFF-SCHEDULE POST. LET'S DO ONE MORE MOCKUP TO COMPLETE THE SET, EH? We're coming in hot with a book cover this time, and this might be my favorite in the set??? I don't know; I'm terrible at picking favorites lmao. I'm DEFINITELY over-posting this month but I like Halloween way more than Christmas, so let's just say these are Halloween presents haha.
If you guys have any ideas for other mockups like these you'd like to be able to use, please let me know and I'll see about adding them to the set! Like my
move poster mockup
, this comes with alternate text styles. Enjoy! ♥
The Coding
Installation Guide
Paste into an entry and fill in the following!
FRONT_COVER
- Front cover background image
BACK_COVER
- Back cover background image
A note:
For the demo I used the same background method as outlined in my
album cover mockup
!
Editing Guide
Paste the coding into Notepad or similar and bring up Replace All (usually Ctrl+H) to replace values quickly and easily!
DIMENSIONS
(Inner covers will resize automatically upon outer container resizing)
1020px - Overall width
800px - Overall height

FONTS
century gothic,helvetica,sans-serif - Overall font
font-size:50px; - Title font size
font-size:15px; - Front cover font size
font-size:11px; - Back cover font size

COLORS
Terms of Use
♡ Do not remove credit.
♡ Do not redistribute my codes in part or in whole (posting a copy for players to use in your game is fine with a link to original post.)
♡ If you break something during editing, please feel free to drop me a comment and I'll help as best I can!
♡ I love seeing edits! This isn't a rule, but if you have a cool edit of one of my codes I'd love to see it!