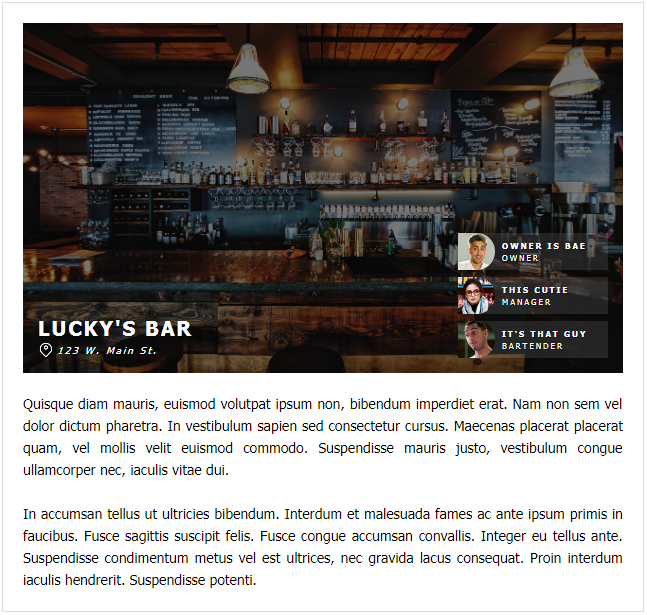 Lucky's Bar

123 W. Main St.
Owner is Bae
OWNER
This Cutie
MANAGER
It's That Guy
BARTENDER
Quisque diam mauris, euismod volutpat ipsum non, bibendum imperdiet erat. Nam non sem vel dolor dictum pharetra. In vestibulum sapien sed consectetur cursus. Maecenas placerat placerat quam, vel mollis velit euismod commodo. Suspendisse mauris justo, vestibulum congue ullamcorper nec, iaculis vitae dui.
In accumsan tellus ut ultricies bibendum. Interdum et malesuada fames ac ante ipsum primis in faucibus. Fusce sagittis suscipit felis. Fusce congue accumsan convallis. Integer eu tellus ante. Suspendisse condimentum metus vel est ultrices, nec gravida lacus consequat. Proin interdum iaculis hendrerit. Suspendisse potenti.
Information
Hey guys! I don't have too many location codes (a decent amount, but we could definitely have more!), so I thought this would be a fun one to do this month! This code comes with two options: A single location with written information under the information card, or a grid of slightly smaller location cards without written location info. This could also easily be used as a log header though; that would be extra cute! Enjoy! ♥
UPDATE July 20, 2020:
A
hidden click
version of this code!
Coding: Single block with information
Coding: Multiple blocks; title cards only
Installation Guide
Paste into an entry and fill in the following!
COVER_BG
- Location background (this has a darkening overlay so that your text is readable)
LOCATION_NAME
- Title
ADDRESS/SUBTITLE
- Subtitle
ICON
- Employee picture
NAME
- Employee name
ROLE
- Employee position
Linked Directory
Want to use the multiple version as a link directory to individuals of each one with written info? No worries, I got your back!
In
<!---LOCATION BLOCK-->
of the
Multiple blocks; title cards only
code, change the holding divs to link tags instead, as specified
here
and then add an
href="URL"
before the
style
tag. Boom, a link!
Additionally, you'll want to add
text-decoration:none;color:#fff;
to that div's (now link's) style tag.
Editing Guide
Paste the coding into Notepad or similar and bring up Replace All (usually Ctrl+H) to replace values quickly and easily!
FONTS
tahoma,arial,sans-serif - Overall font

IMAGES
https://i.imgur.com/Y4duKcD.png - Location pin

COLORS
Terms of Use
♡ Do not remove credit.
♡ Do not redistribute my codes in part or in whole (posting a copy for players to use in your game is fine with a link to original post.)
♡ If you break something during editing, please feel free to drop me a comment and I'll help as best I can!
♡ I love seeing edits! This isn't a rule, but if you have a cool edit of one of my codes I'd love to see it!