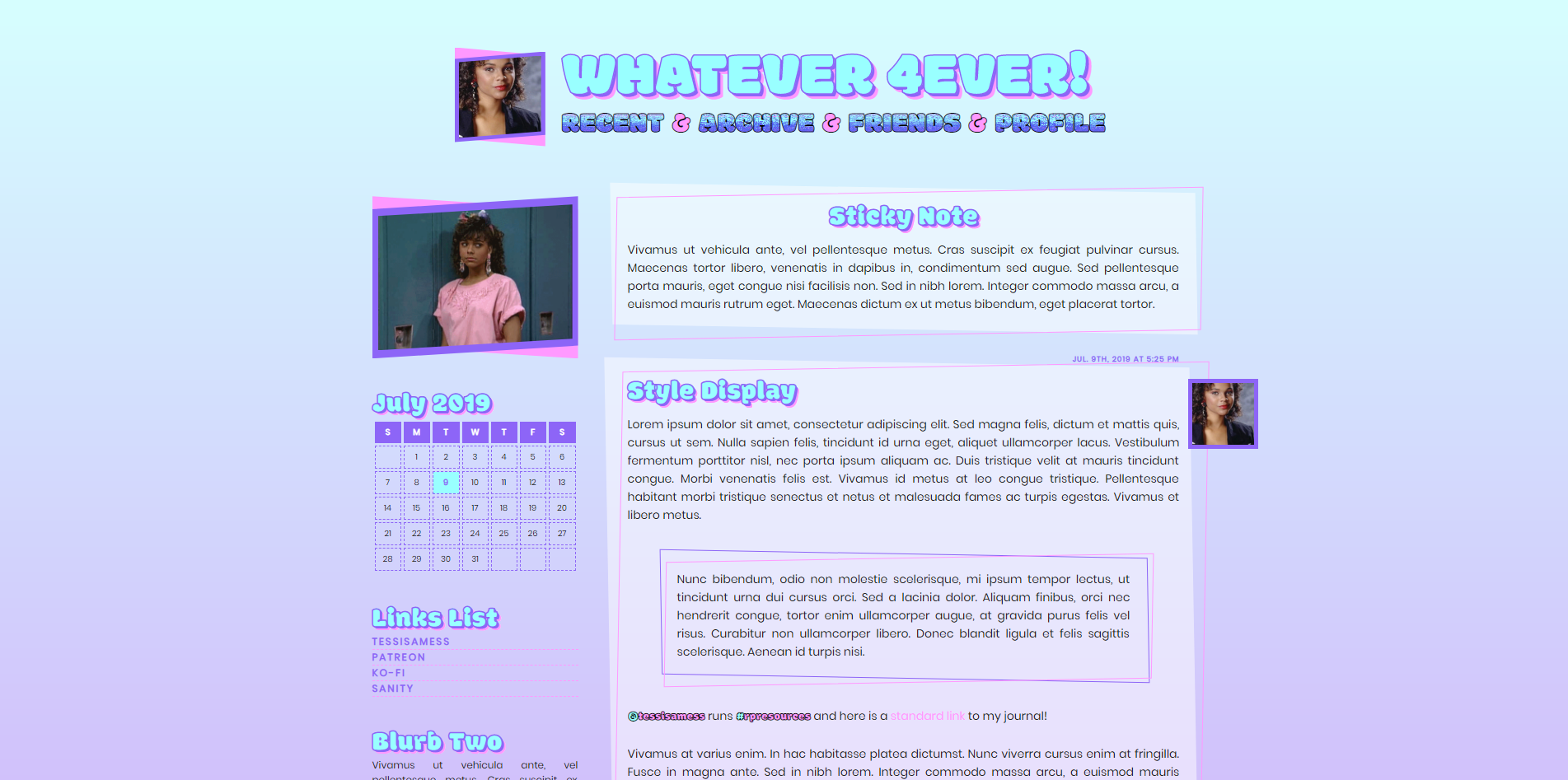 Left Sidebar | Right Sidebar | One Column |
tess065
Information
Hey guys! 90s month continues, and honestly I'll probably do more decade-themed months in the future, because this is
so
much fun. I'll post a poll for favorite decade aesthetics soon for you guys so that I can get a vibe for what themes would get the most use! This layout has
a lot
of effects, overlays, etc., so if there's a specific effect you're looking to remove, don't hesitate to ask! ♥ Enjoy!
Layout Coding
Installation Guide
♡ Go to
Basics
and choose S2 for your style system, fill in your title, then save.
♡ Fill in your
Links List
if desired, then save.
♡ Go to
Look and Feel
, choose Complete Style, then save.
♡ Go to
Custom Options
and choose the following options:
♡ Layout Type:

One Column
Two Column (Sidebar on Left)
Two Column (Sidebar on Right)

♡ Disable customized comment pages for your journal: Yes
♡ Navigation link names: Recent/Archive/Friends/Profile
♡ Fill in sticky note if desired.
♡ Fill in first custom sidebar module with an image if desired.
♡ Fill in second custom sidebar module with text if desired.
♡ Person to credit if you have an individually created layout: Layout by Tessisamess
♡ URL to link the credit to: http://tessisamess.insanejournal.com/
♡ Change any unneeded sidebar modules to (none) if any you don't need are displayed on the live demo. (If you don't see it on the demo journal, it's already disabled for you.)
♡ Custom stylesheet: Input the CSS provided and save!

Terms of Use
♡ Do not remove credit.
♡ Do not redistribute my codes in part or in whole (posting a copy for players to use in your game is fine with a link to original post.)
♡ If you break something during editing, please feel free to drop me a comment and I'll help as best I can!
♡ I love seeing edits! This isn't a rule, but if you have a cool edit of one of my codes I'd love to see it!