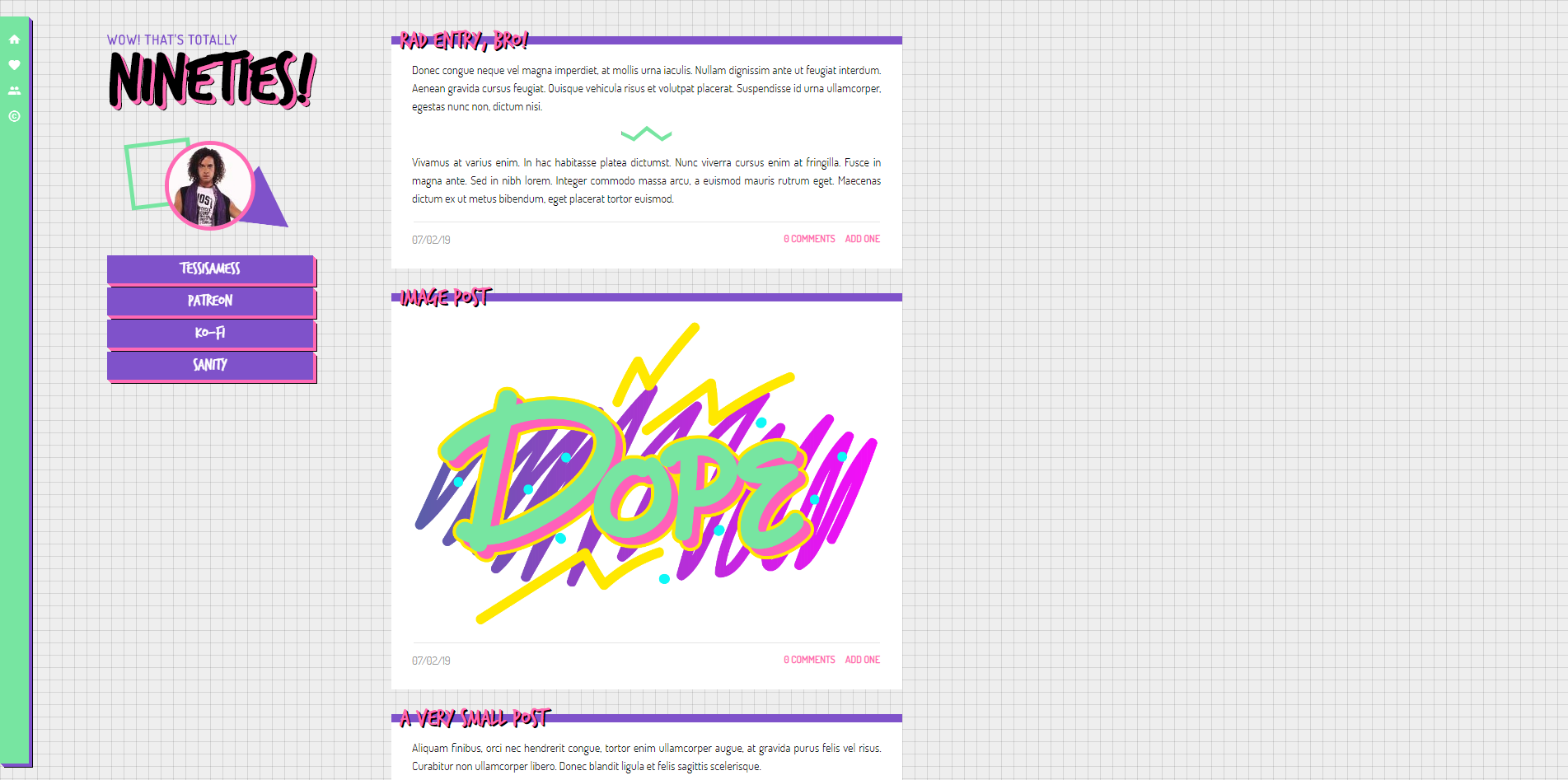 image preview |
tess064
Square sidebar | Triangle sidebar | Parallelogram sidebar

Information
Hey guys! It's my birthday month—I'm 31 tomorrow!—so the theme is one of my favorite things: '90s aesthetic! I'm super hype for this—I've been
dying
for July to get here already so I could start my '90s codes ever since I wrote up my annual schedule, haha. This Generator layout comes with four shape options for the sidebar, so make sure to check out the preview images! I have a lot more info and announcements to make, ranging from health to life updates to project plans, but I'll do that on Thursday. ♥ Enjoy!
Layout Coding
Installation Guide
♡ Make sure you have a website in your
profile page
.
♡ Go to
Basics
and choose S1 for your style system, then save.
♡ Go to
Look and Feel
, choose Generator for all page views, then save.
♡ Go to
Custom Options
and paste the layout code, then save. Make sure you've done a replace all on the following with your information:
PAGE_TITLE for your journal title
https://i.imgur.com/GvhycUX.png for the page tab icon
JOURNALNAME to complete your URL and activate links
TOP_TITLE for your first sidebar title (small)
BOTTOM_TITLE for your second sidebar title (large)
YOUR_USERPIC for your sidebar userpic
LINK_ONE through LINK_FOUR for your links; add as many new links as you like!
SIDEBAR BADGE
This layout comes with four shape options for your sidebar userpic design! Choose one of the following and make sure it's changed all four times it shows up in your layout:
class="circle badge" - Circular icon with color block accents as seen in live demo
class="square badge" - Square icon with color block accents
class="triangle badge" - Triangular icon with color block accents
class="parallel badge" - Parallelogram icon with color block accents

Terms of Use
♡ Do not remove credit.
♡ Do not redistribute my codes in part or in whole (posting a copy for players to use in your game is fine with a link to original post.)
♡ If you break something during editing, please feel free to drop me a comment and I'll help as best I can!
♡ I love seeing edits! This isn't a rule, but if you have a cool edit of one of my codes I'd love to see it!